Chinese Delight
5952 Lankershim Blvd, North Hollywood, CA 91601
Order now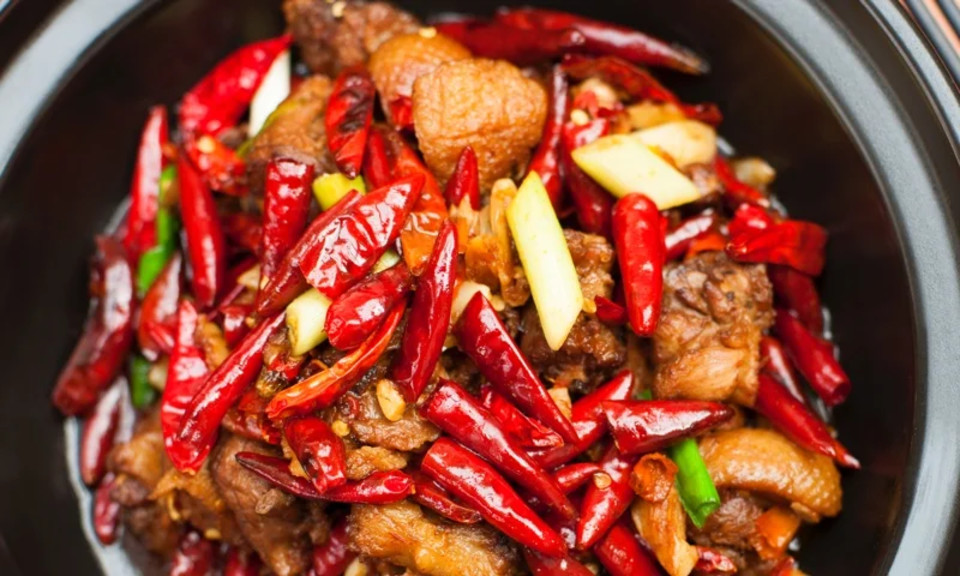 Karen
My over all experience is excellent. I order Chinese chicken salad from all over. I always use the same dressing, feast from the east salad dressing, so I haven't tried their dressing, but nonetheless With every bite you get a varied amount of chicken, crispies, carrots, cabbage, lettuce and more. Everything is sliced thin, and includes lots of the freshest of white meat chicken. I recommend it highly. I also ordered chicken curry and that is also delicious, and without heavy cream, so it is less fattening that other curries I have had, but just as spicy and delicious and you get to choose how spicy you want it. There are not your 3 temps, you get about 5. All yummy.
Nora
I have ordered from Chinese Delight so many times, I think I am just becoming accustomed to receiving good food delivered hot and on time. They do not disappoint! Every time I order I get my favs and one new item. This time it was the Kung Pao Combo. How they get so many ingredients, shrimp, chicken and beef to cook together and remain so tender is a wonder. Vegs were crisp, sauce delicious. On this occasion, the order came so fast I hardly had time to set the table! Thank you Chinese Delight!
Jenerose
Best food service and presentation. Worth your money. Specially that I'm a flight attendant and we bring our food at the hotel after work, food is placed in a microwavable container and the drinks are leak free. I mean even though the drink spilled a little bit, they securely placed it in a plastic bag. I still had 1 leg left for my flight, food didn't smell and drinks didn't spill. Food also tastes great especially the cream cheese wontons. Big portions as well. Thank you.
Lynne
Tried something new tonight - Chicken Wings. No description. No picture. Glad we ordered them! The wings were separated and deep fried. They were naturally crispy, not from a batter. We ordered regular spiciness. The medium sized order came with 8 pieces. They did not have a thick or heavy sauce. Instead it was light in consistency, maybe something with chili oil? I don't know, but we will order them again as a LARGE size! I think the extra spicy too!
Claudia
The delivery came so so fast! In about 20 minutes it will arrive steaming and fresh. This restaurant is my favorite - I've always eaten inside but can now say that their takeout is equally as good. They carefully wrap the soups as well which is a huge plus, you won't have to worry about spilling.
Cayce
I loved the timely manner in which it was prepared and delivered, and the friendliness of the deliverer. Delicious food as well!
Steven
Incorrect order, called restaurant and fixed delivered within 15 minutes
Marissa
Super delicious! The orange chicken was freshly made. Very happy
Luisito
Food was great and delivery was excellent
About us
Asian, Cantonese, Chinese, Dinner, Lunch Specials
Today

Delivery: 11:00 AM - 10:00 PM

Takeout: 11:00 AM - 10:00 PM

Delivery

Monday:

11:00 AM - 10:00 PM

Tuesday:

11:00 AM - 10:00 PM

Wednesday:

11:00 AM - 10:00 PM

Thursday:

11:00 AM - 10:00 PM

Friday:

11:00 AM - 10:00 PM

Saturday:

11:00 AM - 10:00 PM

Sunday:

11:00 AM - 10:00 PM

Takeout

Monday:

11:00 AM - 10:00 PM

Tuesday:

11:00 AM - 10:00 PM

Wednesday:

11:00 AM - 10:00 PM

Thursday:

11:00 AM - 10:00 PM

Friday:

11:00 AM - 10:00 PM

Saturday:

11:00 AM - 10:00 PM

Sunday:

11:00 AM - 10:00 PM